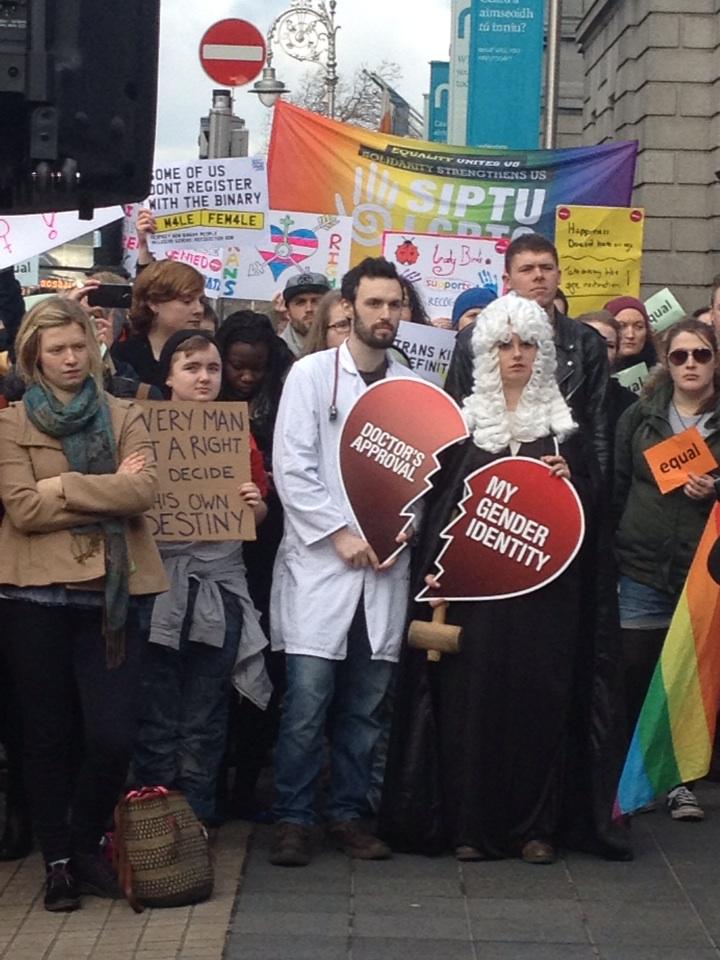 Crowds of people gathered at the gates of Leinster House this
afternoon at 2 pm to protest the proposed Gender Recognition Bill 2014. The rally, organised by the human rights group LGBT Noise, heard from trans people demanding amendments to legislation which is currently being debated in the Houses of the Oireachtas.
Holding up a torn-in-two sign which said "Equal", Max Kryzanowski, of LGBT Noise, who organised the Rally, stated:
"This is what the Government wants to do to trans people".
Members of the trans* community, who are directly affected by the legislation, spoke passionately for amendments to the proposed Bill, and the need for the Government to listen to their voices.
"The transgender community has had to wait for far too long for Gender
Recognition legislation.  The least the Government can do, to make up
for the years of neglect and worse, is to make this Bill as inclusive
as possible, and ensure that no other trans persons have to go down the
same lonely road that Lydia Foy had to travel for the last 18 years"

said Michael Farrell – Senior Solicitor, with FLAC.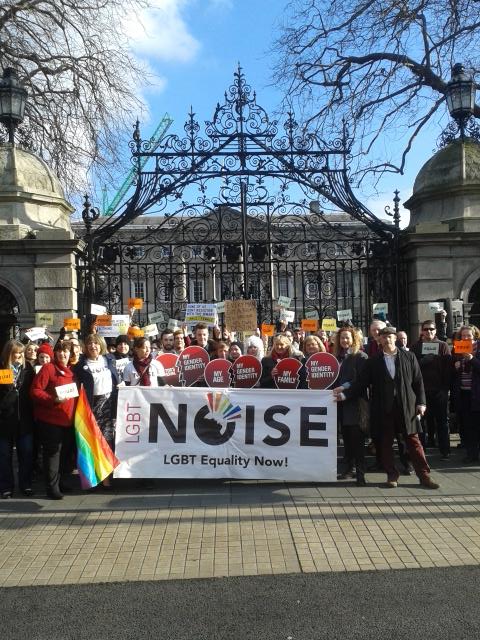 The crowd held symbolic broken hearts reflecting their feelings on "significant flaws" in the Bill. According to attendees, the current measures make the scheme inaccessible to married trans* people, who would be forced to divorce in order to have their chosen gender recognised. The
need for a statement from a treating physician was described as pathologising gender identity, and a step away from international best practice.
Lack of recognition of intersex and non-binary identities, and a deterrent pathway for minors, were also identified as contentious issues in speeches at the rally.
The speakers at the Rally included:
Claire Farrell – Transgender Equality Network of Ireland (TENI), Victoria Mullen – TENI, Michael Farrell – Senior Solicitor FLAC, Cearbhaill Turraoin – LGBT Noise, and Max Kryzanowski – LGBT Noise.
After the Rally, there was music to entertain the crowd of protesters.
EILE has written on the Irish Government's need to rethink the Gender Recognition Bill in MKB's article HERE